Hagar The Horrible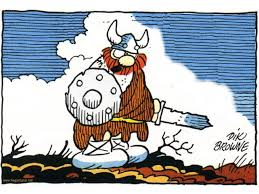 Hagar the Horrible doesn't live up to his name. He is a mild-mannered, working-class marauder, who is more interested in quaffing a Middle-Aged lager than he is in sailing around the world. While he may look menacing, Hagar is an underachieving vandal with a pacifist streak. His daily life is plagued by the ordinary problems we all face.

He resigns himself to suffering the world's ills rather than raging against them. Hagar decidedly devotes himself to his family – raising the kids, paying bills, drinking the occasional brew and answering to his wife.
He is Everyman doing the best he can in a world he did not create, but one he has every intention of conquering … as long as he makes it home in time for dinner.
Created in 1973 by Dik Browne, and now in the hands of his son, Chris, Hagar the Horrible has been a hit with fans ever since he first set sail. Today, an estimated 240 million readers in more than 1,900 newspapers worldwide hav taken a liking to this Viking. He's made the voyage to 58 countries. He speaks 13 languages. From publishing and mobile to apparel and advertising campaigns around the world, Hagar is an expert at bringing home the loot!
A favourite in the UK's top selling Sun for many years. Currently on the online gaming platform, William Hill
© 2019 King Features Syndicate, Inc.
™Hearst Holdings, Inc.
www.hagarthehorrible.com
www.facebook.com/pages/hagar-the-horrible